Welcome to AFE 74, the AFE Chapter of the Worcester Area and Central Massachusetts. We're glad you're here. We have a very active chapter that meets every third Thursday of the month at 5:30 PM.

Our Focus is to tour all types of facilities, have technical presentations, offer networking opportunities and to have a good time while we do it! Please check out our current newsletter below and the links to the left.



---

SJC Custom Drums in Southbridge Has Been Cancelled.
We will be having our 5:30PM monthly chapter meeting at the
Southbridge Hotel & Conference Center, 14 Mechanic Street, Southbridge, MA.
We will have a Chapter meeting, presentation on Risk Management and Physical Security, with dinner.


AFE Chapter 74
17th Annual Golf Tournament 2018
In Review

GOLF TOURNAMENT
Chapter 74 had another successful Golf Tournament to cap off our Summer activities. Please join us in the fall for some exciting tours rounding out the Chapter year. The Tree House Brewing Company tour Charlton Ma in September and the SJC Drum Manufacturer Southbridge Ma in October

SUPPORT OUR SPONSORS
Please click on the link below to see who sponsored our Golf Tournament; without them this event would not have been a success. We encourage you to consider one of our sponsors for your next project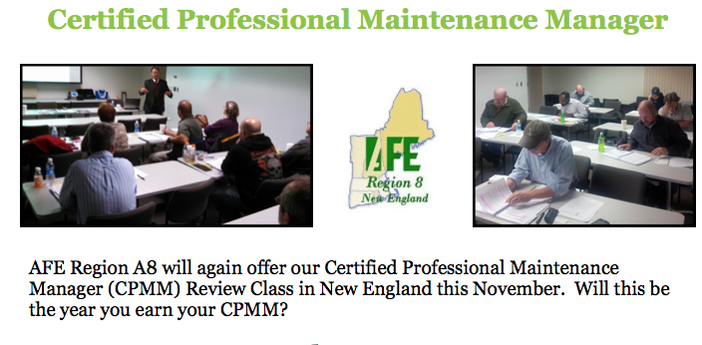 2018 Region-8 CPMM Review Schedule
November 7-9, 2018
REGISTER
​Certified Professional Maintenance Manager Review Program
​Want to be More Successful in 2018? Register for the CPMM Review Course Now!

Self-improvement is always in season. So take time now to enroll in something that will help you be a more successful facilities professional year-round and in any weather: AFE's Certified Professional Maintenance Manager (CPMM) program.

The CPMM program is the fastest-growing and most prestigious designation of its kind. It was designed for people who have hands-on or technical, but not managerial, expertise in the increasingly complex maintenance arena. Those who successfully complete this program — as proven by passing a special examination — have up-to-date, useful knowledge of concepts such as maintenance management, preventive maintenance, inventory and procurement, work orders, work flow, planning and scheduling, computerized maintenance management, total productive maintenance, maintenance financials and return on investment.
​
Tuition for AFE certification review courses includes the application and exam fees, Review Pack, all instruction and instructional materials.



---