Welcome to AFE 74, the AFE Chapter of the Worcester Area and Central Massachusetts. We're glad you're here. We have a very active chapter that meets every third Thursday of the month at 5:30 PM.

Our Focus is to tour all types of facilities, have technical presentations, offer networking opportunities and to have a good time while we do it! Please check out our current newsletter below and the links to the left.



---

AFE Region 8 News

Chapter 74's March tour will be rescheduled to a later date to focus on the upcoming AFE Region 8 Trade-show in Westford, Ma
Job Opportunity

Director of Maintenance and Facilities Engineering
Location: North Andover, Ma - Local candidates only
Click here for more details

AFE Chapter 74
17th Annual
Golf Tournament 2018
===============
This year our tournament will be held June 14, 2018 @ Stow Acres;
so be sure to mark your calendar!
The Chapter 74 Golf Committee is very close to finalizing the sponsorship opportunities for this year's tournament, as well as opening registration for golfing participants. Watch this section for future updates and for registration information.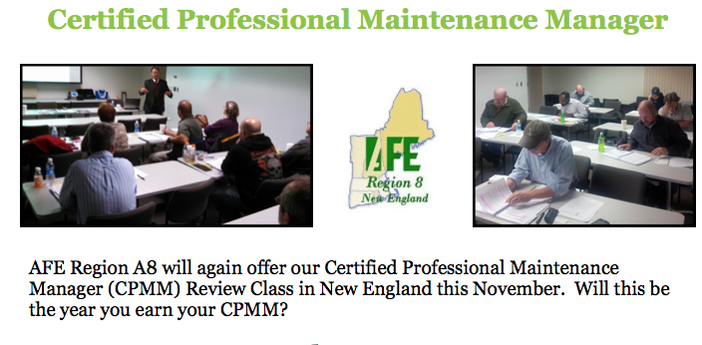 2018 Region-8 CPMM Review Schedule
March 27-29, 2018 & November 7-9, 2018
REGISTER
​Certified Professional Maintenance Manager Review Program
​Want to be More Successful in 2018? Register for the CPMM Review Course Now!

Self-improvement is always in season. So take time now to enroll in something that will help you be a more successful facilities professional year-round and in any weather: AFE's Certified Professional Maintenance Manager (CPMM) program.

The CPMM program is the fastest-growing and most prestigious designation of its kind. It was designed for people who have hands-on or technical, but not managerial, expertise in the increasingly complex maintenance arena. Those who successfully complete this program — as proven by passing a special examination — have up-to-date, useful knowledge of concepts such as maintenance management, preventive maintenance, inventory and procurement, work orders, work flow, planning and scheduling, computerized maintenance management, total productive maintenance, maintenance financials and return on investment.
​
Tuition for AFE certification review courses includes the application and exam fees, Review Pack, all instruction and instructional materials.



---